I've been privileged to participate recently in several blog hops, and I'm especially excited about this one featuring projects from 17 bloggers using the Silhouette cutting machine! There's also a big giveaway coming from this group, so read to the end to get the details!  Today, I'm breaking down a Cut Vinyl Art Upcycle I did on chalkboard…
***
Disclosure:  This is a sponsored post in conjunction with The Smudge Factory, LLC.  Product was given to me in exchange for this post.  All thoughts and opinions of this product are my own.
***
I was thrilled when this hop opportunity came along, because I'd been contemplating a project like this for a while.  I really wanted a love-themed quote for our master bedroom, and finally settled on this verse for Song of Solomon.  And, bonus! it's perfect for Valentine's decorating and gift-giving, too!
Ultimately, I chose this file from The Smudge Factory on Etsy because the style was exactly what I had in mind.  Rachel, who owns the shop, was ridiculously kind and gifted me the file, but I seriously would have spent the money on it, regardless.  At only $4, you get an instant download which includes the .svg file for cutting as well as a .pdf, .png, and .dxf.  Her whole shop is adorable, full of hand-lettered and hand-drawn artwork, and it's all priced between $1 and $6.50 for single files!  She also offers a selection of printable downloads, wood signs, and custom vector files.  I will definitely shop with her again!
I confess that I don't actually own a Silhouette (although after researching this post and seeing this array of projects, I'm certainly coveting one), so I contacted a nearby friend who has cut vinyl for me before. She kindly ran this for me as well.  She tells me it's cut from Oracle 651 White Vinyl, using settings Blade 2, Speed 3, Thickness 11.  Her only note to me was to be careful of the colon between 3:4 in the reference line…those little dots are pretty tiny and you need to be careful they stay put!
Silhouette Cut Vinyl Art Upcycle
The Materials.  I planned to use a vintage window for the project…until I found a huge chalkboad-style sign deeply discounted at Joann Fabrics.  It's enourmous at nearly 21″ x 15″.  Original MSRP on the piece was $59.99, then it was clearanced at 50%, THEN marked down to $6.25 due to damage!  It has some warping to the particle board backing that causes a little gap along the sides.  I think some good adhesive applied in the gap and weighting it down with some heavy books overnight would have fixed it…but I didn't.  I kinda didn't care, and, frankly, I launched into the rest of the upcycle before I thought of it!
Knowing the vinyl art would be more square, I decided to embellish the top and bottom of the chalkboard to fill the extra space.  I chose to use artificial flowers, but this would also be a fantastic use of paper flowers, also cut with a Silhouette!  There are scads of cut files available for different varieties!
My Silhouette Cut Vinyl Art Upcycle goes together in three of the easiest steps possible!
Step 1: Remove floral buds and leaves. I favor a scary rusty pair of wire cutters to get a smooth cut.  Trim the florals close to the bud so they lay flat to the chalkboard, but leave stem on the leaves so you have room to position them however you like.
Step 2. Arrange and adhere florals. This step is a matter of taste.  Play around with the pieces until you're satisfied with the composition before you glue!  I chose to have a large cluster at the top and a small bud at the bottom, leaving space for the vinyl art in the middle.  Then just hot glue it down!
Step 3. Place and transfer vinyl art and removing backing. Make sure your cut vinyl art has been reversed onto freezer paper, then place it on the chalkboard sticky-side down.  Use a credit card or burnishing tool to rub over the vinyl art, making sure to hit all the letters thoroughly.  Then remove the backing by gently pulling back on the paper.  If any section of the vinyl art didn't adhere well, lay the backing down again, burnish again, and try again.  I listened to my friend who cut the vinyl for me, paid close attention to the colon, and the tiny dots stayed in place the first time!
And there you have it!  Not considering the cutting of the vinyl art, the project took me less than thirty minutes to finish!  Even better, materials cost me less than $15 ($3 vinyl, $5 florals, $6.25 chalkboard sign), which brings in this custom vinyl art project at a fraction of the price it would be in a boutique or craft fair!
Alrighty, friends, I promised you a giveaway if you hung with me…and here it is! The group of bloggers featured in this hop are giving away a new Silhouette Cameo II Starter Bundle! Can you believe it?  The event is taking place on Instagram from February 4 (today!) through February 11, with the winner announced February 13, 2016.   NOW CLOSED! You don't want to miss this opportunity, so make sure you're following me on Instagram for all the details!
Make sure you take a few minutes and check out the other projects on today's blog hop, too…they're crazy good!  These bloggers are super creative and oh, so kind to work with.  Leave 'em a comment, if you can; that kind of stuff really fuels us!  Enjoy!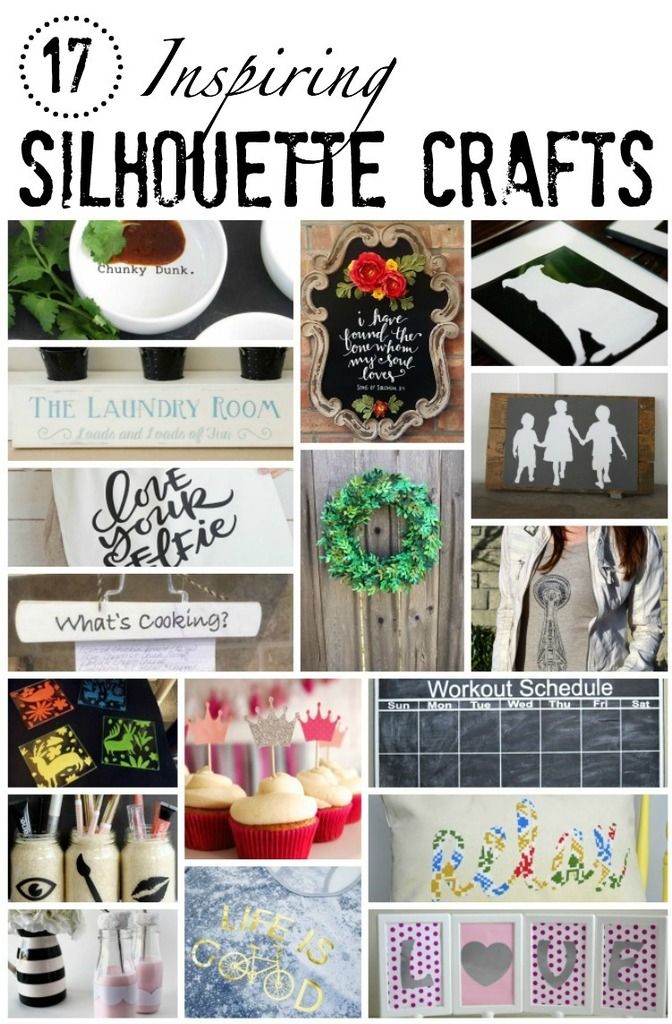 Pocketful of Posies –
Sultry and Saucy One of a Kind DIY DIP Cups

Hobnail House –
Silhouette Craft Blog Hop: Cut Vinyl Art Upcycle

In The Loop –
How to Create a Silhouette Using the Silhouette Cameo

Craving Some Creativity –
Silhouette Project Challenge: Distressed Laundry Room Sign

DIY Passion –
Cheeky DIY Tote Bags that will Make You Smile

Domestic Abiliy –
Paper Boxwood Wreath

Our House Now A Home –
A Silhouette Giveaway and Creating New Wall Art
My Life From Home –
Silhouette Challenge: What's Cooking? Recipe Holder

Holy Craft –
How to Use a Photograph to Make a Custom T-Shirt with Your Silhouette

Knock it Off Crafts –
DIY Otomi Coasters using a Silhouette Machine and Silhouette Giveaway!
One Project Closer –
DIY Princess Party Decorations
Dream Design DIY –
Chalkboard Workout Calendar and Silhouette Giveaway
The Country Chic Cottage –
Makeup Organizer
Refresh Living –
Custom Word Throw Pillows with Vintage Fabric
The Deans List –
Scalloped Milk Glass for Valentine's Day
Tried & True –
"Life Is Good" Bicycle Lover's Tee
Tastefully Frugal –
Valentine's Day/St. Patrick's Day Reversible Sign